Saturday, November 23, 2019 - Sunday, January 5, 2020
Together with families, friends, and neighbors, young and old, Norway House's annual signature Holiday tradition Gingerbread Wonderland returns to the Galleri in all of its cinnamon coziness. You'll recognize familiar buildings and landmarks from the Twin Cities and beyond, created by friends and neighbors—everyone from your favorite local bakeries and cake wizards, to families and first-time gingerbread baking enthusiasts. All are encouraged to enter their dream cookie creation, regardless of their baking level! So get your friends together to bake, laugh, frost, and celebrate the warmth of the Holiday season—and the oven!
Free Pre-made Gingerbread kits available november 1
A limited number of Gingerbread House kits are available on a first come, first served basis—and they do go quickly!
Claim your kit by stopping by or calling on November 1st to reserve one.
No more than two kits per guest.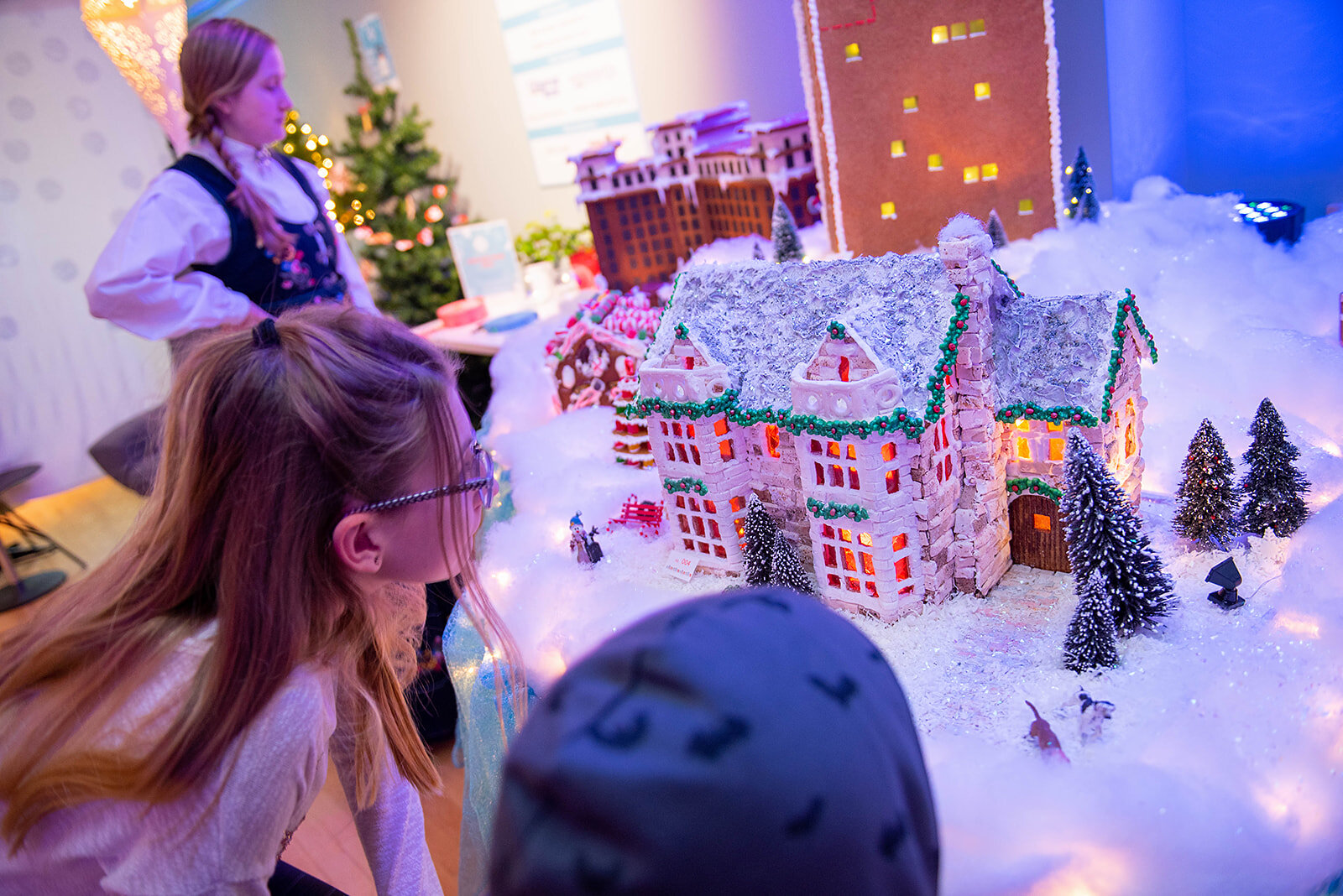 Visit Gingerbread Wonderland!
10:00am - 4:00pm | Tuesday-Sunday
Closed Mondays
General Admission | $5
Members | Free
Children Under 12 | Free
Closed Thanksgiving, Christmas Eve, Christmas Day, & New Year's Day
Smell the Sights + Treat Your Heart
GINGERBREAD (or in Norwegian, pepperkake) is a quintessential feature of the Norwegian holiday season. You will find gingerbread cookies, ornaments, and houses everywhere—in offices, stores, homes, and schools. Some towns and cities in Norway even go so far as to build replicas of their own city out of gingerbread!
Norway House and our warm family, friends, and community members are creating a Gingerbread Wonderland city in our gallery—a tradition we have come to love, and one that will soon be a part of your family's annual Holiday to-do list, too! You will find familiar buildings and landmarks created by professional bakers and gingerbread enthusiasts.
Gingerbread Wonderland is a fabulous treat for groups!
Save on your Gingerbread Wonderland experience with a group of 10 or more!